I'm trying to reduce the amount of pre-packaged food that I prepare for my family.  One thing we've (yes, including me) always liked is boxed macaroni and cheese.  Off to find an alternative recipe that would pack more of a punch nutrition wise and be a complete meal, I came up with this recipe.  It's easy and makes a ton.
Stovetop Chicken Mac & Cheese with Broccoli
Ingredients:
1 chicken breast, cooked and shredded
1 1/2 cups of fat-free milk
2 tbsp all-purpose flour
1 cup shredded sharp cheddar cheese
1/2 cup shredded monterey jack cheese
4 oz (1/2 a block) of reduced-fat cream cheese
1/2 tsp onion powder
1/2 tsp garlic salt
1 small head of broccoli, cooked and cut into bite-size pieces
6 oz uncooked pasta
Directions:
Prepare the chicken anyway you like.  You'll need to cook and shred it for later.  My preferred method is to put the chicken in the slow cooker, cover it with water or chicken broth and cook on high for 3-4 hours.  It falls apart and is tender.
Cook the broccoli and cut in bite size pieces.  I use a steamer which is super easy.  All I do is fill the base with water and set the timer for 15 minutes.  You could also heat some frozen broccoli up in the microwave or saute it in a pan with a little bit of non-stick spray.
Cook the macaroni according to package directions.  While that is cooking, prepare the sauce.
Bring the milk and flour to a boil in a large pan, stirring constantly (important step or it will burn).  Reduce heat and add the cheeses, onion powder and garlic salt.  Cook until all the cheese is melted, stirring constantly.  Make sure it looks cheesy enough, if it doesn't, grab another handful of cheddar and throw it in.  You can never have enough cheese.  Stir in the pasta, chicken and broccoli.  Salt and pepper to taste.
I've never been good at taking pictures of each step during the cooking process.  For one, I'm usually herding dogs, chasing a toddler or checking emails when I should be focusing on my meal.  If you think pictures of each step would be helpful, let me know and I'll try to do better.  I'll quit trying to herd the dogs.   Here's one shot that shows all the good stuff before it gets mixed together.
You COULD make some breadcrumbs and sprinkle them on top and bake this for 5-10 minutes but then it wouldn't be stovetop chicken mac and cheese.  But I guess it really isn't just stovetop mac and cheese since I'm using a slow cooker for my chicken and a steamer for my broccoli.  Shh, don't tell!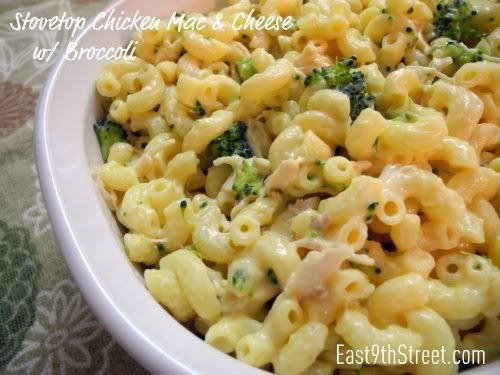 What are your favorite weeknight meals?