The first time I saw a PlasmaCar was at my daughter's preschool.  There were 3 of them lined up against the wall – pink, yellow and red.  Not knowing anything about them, I asked my daughter about it.  After all, she is 2 years old and an expert at all things pink.  Her response, "my car," wasn't as detailed as I would have liked so I set out to do some research.
PlasmaCars are one of the coolest toys I have come across in a long time.  A toy that your child rides, they are propelled by simply turning the steering wheel.  No batteries, no chargers, nothing electrical on this toy.  I'm sure I'm not alone when I say I am tired of buying toys for my child that require a small fortune in batteries.  Not only is it a drain on my pocketbook, all those dead batteries are terrible for the environment.
Putting together toys is not my strong suit.  I tend to use intuition instead of directions, which isn't always a good thing.  When I pulled the pieces out of the box, I was relieved there were so few of them.  Putting on the rear wheels was a little difficult for me, only because I used my hands and not a rubber mallet.  Piecing together the front wheels and the steering column was very easy.  I think it took about 5 minutes total to put it together.  Using the rubber mallet would have easily shaved 2 minutes off this process.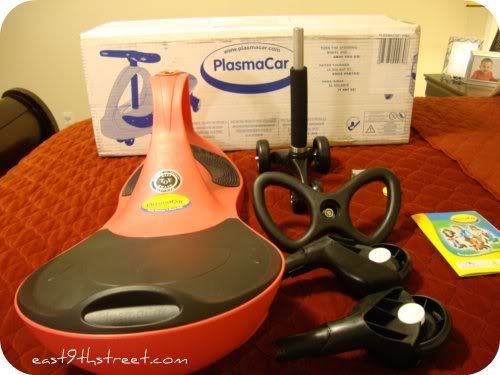 The car can support up to 220 lbs on a flat, smooth surface so for its maiden voyage, my daughter and I rode together.  I knew it didn't work on carpet but I thought I would try it out on the tile in my kitchen.  Not so much luck there.  We went backwards more than forwards.  Knowing it worked best on a cement surface, I made my husband pull the cars out of the garage so we could ride around in there.  There were so many smiles and giggles from both of us!  The car was easy to use on the right surface.  My husband tried taking pictures of us but because we were going so fast, they were just a blur.
We love our PlasmaCar and think every kid (and adult) should have one.  Seriously (notice I say seriously a lot in my posts?), I can see PlasmaCar races at our next tailgating adventure or family gathering.  This car is definitely a toy that will continue to entertain for many years to come.
Disclosure: East9thStreet was given product to facilitate this review.  Statements are 100% mine and yours may differ.