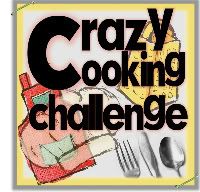 You would think this first challenge would be as easy as Kraft Macaroni and Cheese.  Wrong!  With all the wonderful food blogs out there, I spent hours drooling over pictures, wondering just how unhealthy it would be if I ate homemade macaroni and cheese every day for a month.  After changing my mind several times, I finally decided on this recipe posted by Recipe Girl.
What drew me to this recipe was first and foremost: bacon.  Additionally I was intrigued by the use of herb & garlic flavored goat cheese and the spicy kick the red pepper flakes would give.  I did modify this recipe a little bit.  I eliminated the nutmeg as I'm just not a fan of it in my cream sauces and I used whole wheat bread.  I don't feel I was missing out on much as the wonderful smoky flavor from the bacon and the bite from the red pepper flakes elevated this from a typical homemade macaroni and cheese recipe to an outstanding one.
Macaroni and Cheese with Bacon
Crumbly Topping
2 cloves garlic
3 tbsp finely chopped parsely
6 slices of white bread, crusts removed (I used whole wheat)
2 tbsp melted butter
Macaroni and Cheese
12 oz center-cut bacon, chopped into bite size pieces
3 tbsp butter
1 lb pasta cooked very al dente (generally 2-3 minutes less than the suggested cooking time on the box)
5 1/2 cups whole milk, heated until warm
1/2 cup all-purpose flour
1 1/2 tbsp chopped fresh thyme
1 tsp mustard powder
1 tsp red pepper flakes
3/4 tsp kosher salt (I used grey sea salt)
1/2 freshly ground pepper
1/4 tsp ground nutmeg (I omitted)
12 oz or 4 cups of sharp white cheddar cheese, shredded and divided
8 oz herb & garlic flavored Chevre cheese (goat cheese) crumbled
1/2 cup grated Parmigiano Reggiano cheese
Directions
Preheat oven to 375° F.  Butter a 3-4 quart casserole dish.

Prepare Breadcrumbs.  Put garlic & parsley in a food processor and pulse until minced.  Add bread and pulse until the bread turns to crumbs and mixture is combined.  Pour in melted butter and pulse until mixed in.  Set breadcrumbs aside.

In a large skillet, saute bacon until it is crisp (a slight modification from the original recipe).  Remove and drain on paper towels.  Drain all but 1 tbsp of bacon grease from the pan.  Add 3 tbsp of butter to the pan and heat to medium.  When butter sizzles, add the flour and cook, stirring for 1 minute (make sure do cook for at least 1 minute to get rid of the "flour" taste).  Slowly pour the milk into flour the skillet and stir in thyme, mustard powder, red pepper flakes, salt, pepper and nutmeg.  Then stir in 3 cups of the cheddar cheese, Chevre and parmigiano cheese.

Stir in cooked pasta and bacon into the cheese sauce.  Pour mixture into your buttered casserole dish.  It will be soupy.  Sprinkle remaining cheddar cheese onto the pasta.  Scatter your breadcrumb mixture over the top.

Bake until browned on top, about 30 minutes.  Check at 15 minutes to make sure the topping isn't browning too quickly.  If it is, just place a sheet of foil loosely over the top.  Once done, remove from the over and let sit for 5 minutes before serving.
We halved this recipe and had leftovers for a couple of days.  The next time I'll make the full recipe and freeze individual portions.  If you like your macaroni and cheese to "look" like traditional macaroni and cheese, you may want to use regular sharp cheddar cheese instead of white sharp cheddar cheese.   If you want your macaroni and cheese to taste like anything but a traditional recipe, don't change a thing!
Like this macaroni and cheese recipe?  If so, then vote for it or your favorite.  The winner will be featured at Moms Crazy Cooking.
Powered by Linky Tools
Click here to enter your link and view this Linky Tools list…