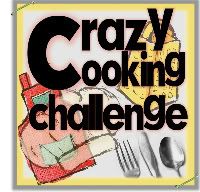 It's been a few months since I've participated in Mom's Crazy Cooking Challenge.  You know, that darn thing called life gets in the way.  There was this little trip to Disney World and some major changes in our personal life.  I'm glad to say life is getting back to the "norm" if there really is such a thing.  June's theme made it perfect to jump back in because it's quick and easy to make and it's a refreshing alternative on these hot summer days!  Yes, this month we are making smoothies.
When I think of smoothies the flavors that usually come to mind are strawberry and banana or some concoction that includes spinach and other greens.  I wanted something a little different but also wanted to use ingredients that I already had in the house.  I've gotten back to grocery shopping only one day and week and I like it.  Have you ever realized how much time you spend at the grocery store when you don't meal plan?  I swear we were taking trips to the store every single day!  Lucky for me I found this wonderful Spiced Apple Pie Smoothie recipe from Averie Cooks and guess what?  I had all the ingredients I needed.  Take some time and check out her blog.  She has some wonderful recipes and anyone who tells me how to make a Buttery Nipple Shot is awesome in my book!
Spiced Apple Pie Smoothie
Ingredients:
1 1/2 cups apple juice or apple cider
1 cup vanilla greek yogurt, non-fat
1 banana (frozen works best)
1/2 tsp vanilla extract
1 tsp cinnamon
dash of nutmeg
Stevia or other sweetener (if needed for taste)
2 cups ice (optional)
Directions:
If you decide to freeze your bananas, slice them and freeze on wax paper.  This will make it easier for your blender.
Combine all the remaining ingredients (except ice) in your blender and blend until your mixture is smooth and creamy.
If you like your smoothies with a milkshake texture, add the ice and blend until smooth.
Sit outside on your patio and have a refreshing mid-day treat!
I hope you enjoyed this recipe and that you'll visit the other blogs participating in this challenge!  Also, I have a little itsy, bitsy request.  If you liked this recipe, could you please click on my link below?  That would let Miss Tina (the awesome, awesome organizer of this event) that you stopped by and enjoyed what you saw.