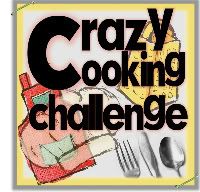 It's that time once again for the Crazy Cooking Challenge hosted by Moms Crazy Cooking.  This month our challenge was to make a chocolate cake recipe found on another blogger's site.  We couldn't take the easy way out and head over to those big name bloggers (you know the ones I'm talking about) but instead, find someone on a bit of a smaller scale and highlight them.  I stumbled upon (well, not literally) this Gooey Chocolate Caramel Cake recipe from Meagan's First Kitchen.  I've seen several different versions of this recipe under different names.  No matter what you call it, this cake is so, so good.  It's definitely one that will break your calorie counter but I think it's worth it.  My version strays a little bit from the original but stays true to the taste.
Ingredients:
Boxed chocolate cake mix
1 can sweetened condensed milk
1 jar caramel sauce, save a few tbsp for drizzling
Chocolate bar for shavings (I used Ghirardelli squares)
1/2 cup of Heath toffee bits
1 container low-fat whipped cream, thawed
Directions
Make the chocolate cake according to package directions in a 13×9 pan (I made my cake using the lower fat instructions using applesauce instead of oil).
Let the cake cool completely and using the end of a wooden spoon, poke holes in the cake about 1/2-1″ apart.
Mix sweetened condensed milk and caramel sauce together and pour over the cake.  I only used about 1/2 of the mixture but feel free to use it all (after all, you made the cake lower fat!).  Let the cake sit in the refrigerator overnight so the sauce is thoroughly absorbed.
Spread whipped cream topping over the cake.  Sprinkle with toffee bits, drizzle caramel sauce and garnish with chocolate.  I used a vegetable peeler to make small chocolate garnishes.
This cake is simple to make, tastes great and is always a crowd pleaser.  If you like what you see, please give me a tweet!