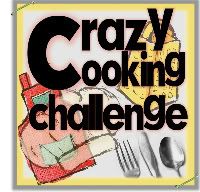 Our family has mashed potatoes about four times per year.  When we do have them, we want them to be creamy and buttery.  The perfect combination in my eyes.  Poking around the blogosphere I found several recipes for mashed potatoes that looked peel worthy (peeling potatoes is ONE of the reasons we only have them 4x per year) but settled on this one by Steamy Kitchen.  Steamy Kitchen is written by Jaden Hair, a professional recipe developer, food columnist and food photographer all in one.  What drew me to this recipe was the addition of roasted garlic.  Remember one of my requirements is my potatoes be buttery?  Well, when you roast garlic correctly, its better than melted butter.   This is a simple recipe that can be *whipped* up any day of the week.  I made mine without the potato skins but you can keep them on if you wish. Crazy Cooking Challenge #3 – Mashed Potatoes.
Roasted Garlic Mashed Potatoes
Ingredients:
1 head garlic
1 teaspoon olive oil
4 medium russet potatoes, peeled
3-4 tablespoons butter
1/4-1/2 cup milk or heavy cream (or more)
1 1/2 teaspoons kosher salt (or 3/4 teaspoon table salt)
1 teaspoon minced fresh chives
Directions:
1. Preheat oven to 400F. Cut off the top 1/2-inch of the garlic off. Lay garlic on piece of tin foil, drizzle olive oil over garlic cloves and close tin foil. Roast for 45 minutes or until the garlic has softened completely and is very tender. Let cool and squeeze out the roasted garlic cloves. Coarsely chop.
2. In the meantime, place the potatoes in a large pot and cover with water by 1 inch. Cover and bring to boil and cook for 20-25 minutes over medium heat, until you can easily pierce the potato with a fork with very little resistance. Drain potatoes.
3. In the pot, add 4 tablespoons of butter, 1/2 cup of heavy cream, salt and roasted garlic and turn the heat to low. Use a potato masher to mash the potatoes into the pot. Stir the potatoes. Do not over mix or the mashed potatoes will turn gummy. Taste and season with additional salt or milk if needed. Stir in chives.
The garlic flavor permeates throughout the potatoes without being overwhelming.  Even my 2-year old who is not a fan of mashed potatoes (I'm not sure if she's really my daughter…j/k) ate a few bites of them.  Sure you could throw in some bacon pieces, cheese, etc. but I didn't want to take away from the garlicky flavor.
So now that you've seen this recipe, be sure to check out all the participants in the Crazy Cooking Challenge.  Vote for your favorite recipe and check back to see who wins this month's Crazy Cooking Challenge!