Welcome to Week 3 of the Color, Click, Capture photography challenge hosted by East9thStreet, A Helicopter Mom, Nap Time Is My Time and Sunshine and Sippy Cups.  This week our color is yellow.  Yellow reminds me of sunshine, which I'm greatly missing with all the gloomy days we've had.  You would think I'd have several yellow items around my house considering I graduated from Wichita State University (gold and black) and am a huge fan of the Iowa Hawkeyes (again, gold and black) but the sad truth is no, yellow is not a common color throughout my house.
I went to the archives and found the following pictures with yellow in them.  Just seeing these pictures reminds why I wanted to start this challenge!
This picture of my daughter was taken during last year's family vacation.  She had her first true experience at water park at the infamous Soak City at Cedar Point in Sandusky, Ohio.  Don't let the look in this picture fool you, she loved going down that yellow slide.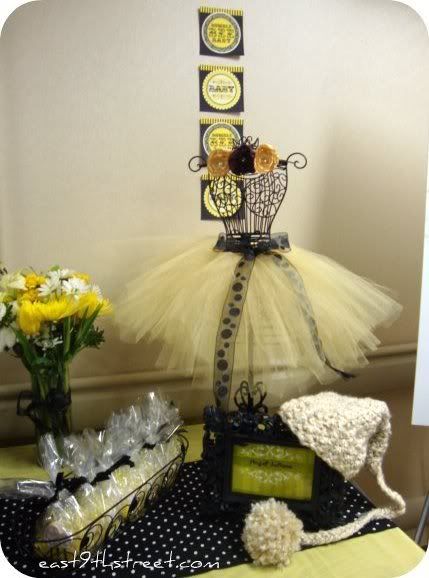 In 2011, the hospital system that I worked for opened a new maternity wing and our clinic participated in an open house for the public.  Being the competitive person that I am when it comes to organizing events like this, our clinic went all out with a bumble bee theme, even with coordinating giveaway items.
This week's photography tip is from Faith Massey.  Faith owns and operate Images by Faith Portrait Art, a boutique studio nestled in the Lake Norman area, just outside Charlotte, NC. Her passion for art started early and she explored many different mediums but found her true love in photography after having my first child in 1994. After moving from California in 2004 she opened her studio in Huntersville. As a mother of 5 beautiful children, she is very comfortable working with babies and new parents alike. Her style has been described as natural, refined and unpretentious and she loves to highlight every sweet detail of children,using primarily natural light to capture the soft sweet beauty found in children.
When photographing small children, get out from behind the camera….

Children, particularly young children, react to your facial expressions. If they can't see your face, they are less likely to make eye contact with the camera or have the expressions you are looking for. Try to engage with the child and move the camera up quickly, take your shot and then move it again quickly so you keep your subjects  engaged.
Want to participate in our challenge?  It's super easy!  Here's how It Works:
Take a picture the represents the color of the week.
Write a blog post that features your picture and link it up.
Visit other people's posts and hopefully find some inspiration!
You can put the button and link code on your blog if you wish but it's not a requirement.
Our color for next week is GREEN!