It's Asian weekend at my household.  After browsing Food Gawker and Pinterest,  I settled on three different Asian recipes.  Shopping for ingredients was a bit of a challenge.  Used to having an Asian market, this time I had to rely on my local chain grocery store which can be hit or miss.  Luckily for me, between two different stores, I was able to find what I needed.  The first recipe I made was an Asian Inspired Meatball that I found at Gimme Some Oven.
I've been making a conscious effort to improve the quality of meat that I feed to my family by buying mainly organic products.  Buy organic is not cheap but when I think of the other things that I foolishly spend my money on, a few dollars extra for high quality meat is worth it.  But because of the expense and for obvious health reasons, I'm trying to reduce the amount of red meat in our diets.  This recipe works perfectly as it can be served as an appetizer or an entree.
My recipe strays a little from the original and still delivers delicious results.
Meatball Ingredients:
1 lb ground chuck
1.25 lbs ground turkey (I used 93/7)
1 cup Panko
1 whole egg
2 egg whites
2 tsp sesame oil
1/2 tsp ground ginger
3 tsp minced garlic
1/2 cup sliced green onions
Sauce Ingredients:
2/3 cup hoisin sauce
1/4 cup duck sauce
1/4 cup rice vinegar
2 tsp minced garlic
2 tbsp low-sodium soy sauce
1 tsp sesame oil
1 tsp ground ginger
hot pepper flakes to taste (if you want to kick it up a notch)
Garnish Suggestions:
Toasted sesame seeds
Sliced green onion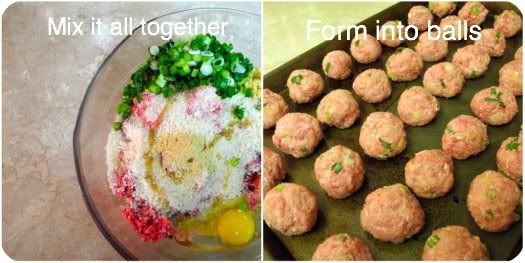 Directions:
Preheat oven to 400º.
In a large bowl, mix together all the meatball ingredients.  I find it's easiest to do this with my hands.  Form into balls about 1-1.5″ in diameter and place on a baking sheet lightly sprayed with nonstick spray.  Bake form 12-15 minutes or until meatballs are no longer pink on the inside.
Whisk together all the sauce ingredients until well blended.  You can either drizzle sauce on each meatball for a fancy presentation or put the meatballs into the sauce and coat evenly.
Garnish with toasted sesame seeds (I buy these already toasted) and sliced green onion.
I served these over a bed of rice with a side of stir-fried vegetables.  My husband  told me it was one of the best meals that I've ever cooked (he tends to tell me this every time I make a new recipe) but I have to agree, this was very good.  The sauce makes the meatball!