Once I learned children under 3 get into Disney Theme parks with no admission fee, I knew that a trip to Disney was going to be our 2012 family vacation. Driving there is a no-brainer. With the cost of airfare for a family of four, plus all the stuff we'll need to bring it just makes economic sense. My bigger question is where are we going to stay? A week in a decent hotel in Orlando can easily cost $1500 or more and that's for a basic room with two double beds. With a 15-year old and a 2-year old, this option just doesn't work. After looking at different possibilities, I realized the best option for us was a timeshare.
Why a timeshare rental? There are many reasons but here are my top few and requirements I have on any vacation our family takes.
SPACE! With timeshares you have separate bedrooms, a kitchen, dining room, etc. and usually a patio or a balcony. There is room to spread out, put away your things and not feel like you're living out of a suitcase.
MEALS! One thing I hate is being rushed in the morning. Knowing that I have to be at breakfast by xyz time while on vacation doesn't feel like vacation to me. I like having the option of preparing healthy meals if I want to. It not only saves us money but also helps me offset all the not-so-healthy food that we eat when traveling.
LUXURY! Let's face it, after a few days of being on the go, everyone needs a break. Most of the timeshare properties have gorgeous facilities so you can relax in luxury and not be relegated to your hotel room. Some even have kiddie pools, playgrounds and host their own activities.
My first question was how to rent a timeshare? Well, it's easy when you use RedWeek to search out timeshare opportunities. RedWeek is a site that makes it easy to find timeshares at the locations you want, for the prices you can afford. Finding a property was relatively easy to do. You can search by location or resort name. Knowing that we would be in Orlando, I chose the location option. My search returned 30 results. One of those results was the Sheraton Vistana. I stayed there in May, so knowing the quality of the resort and suites (which are fabulous), I was very interested to see how RedWeek compared to other sites.
I sorted the timeshare results by price, from lowest to highest. You can see below that I found a 2 bedroom, 2 bathroom with a pool view for $71 per night.
Doing a similar search on Starwood Hotels & Resorts site, I put in the same search criteria for the Vistana – the same dates and number of bedrooms/bathrooms. You can see below that the lowest daily price (excluding taxes) was $169 for a total pre-tax cost of $1183. Over double the rate I could get from RedWeek!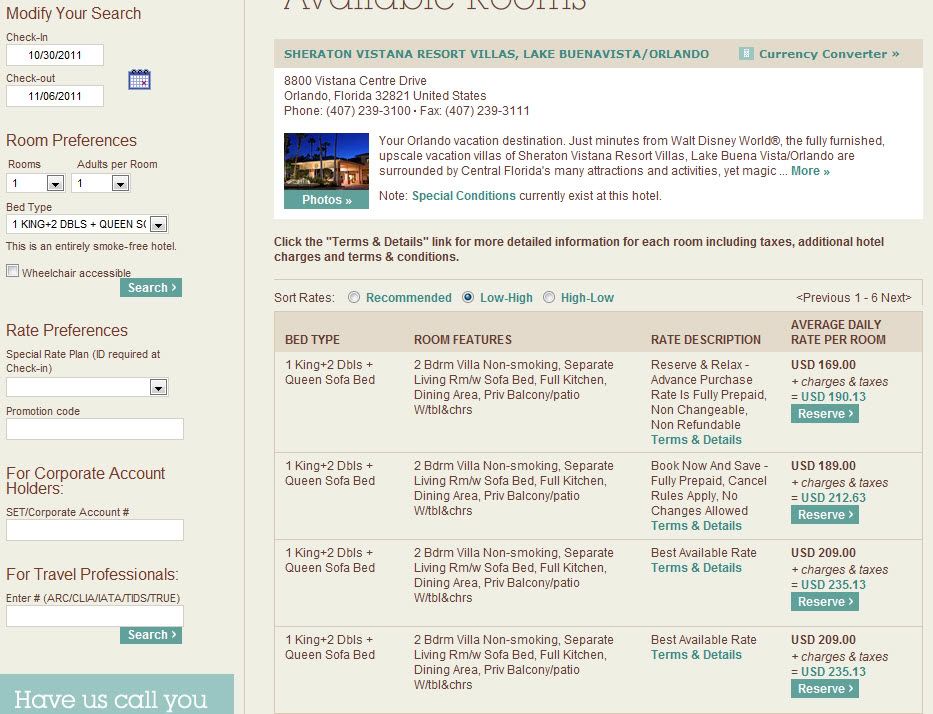 With a savings like this, the $14.99 annual membership fee is well worth the cost.
Not sure where you want to go? You can also search RedWeek by specific categories. Once you pick a category you further specify by picking the region. Want kid-friendly in Europe? They have that option!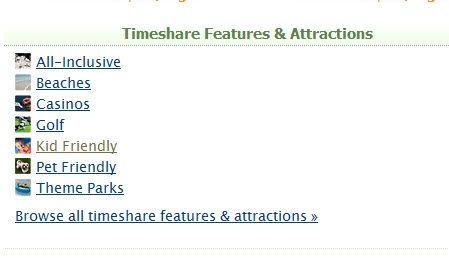 The Resource page will answer many of the questions you may have about the rental process. RedWeek does not handle transactions between the timeshare owner and renter (they are a conduit for finding properties only) and provide suggestions on how to manage monetary exchanges. Even for the nominal fee involved, in my example above, its still over a 50% savings!
Disclosure: I received one or more of the products mentioned above for free using Tomoson.com. Regardless, I only recommend products or services I use personally and believe will be good for my readers.